2022.10.25
SVALINN takes the lead in tethered caps and Norway's largest dairy producer, TINE, chooses to be the first!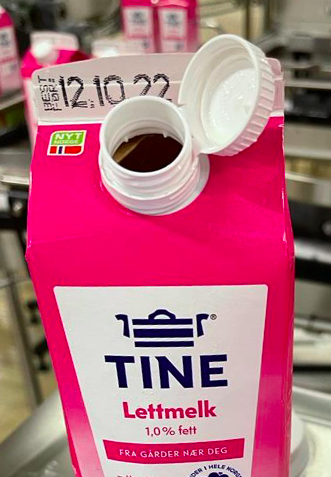 Plastic in nature is one of the biggest environmental challenges facing the industry. "That's why, as innovators in the market, we have made it a priority to develop our CueCap Eco+ BT solution, a cap that stays attached to the carton when you unscrew it, to reduce the risk of littering and support proper recovery and recycling" says Borge Kvamme, CEO of Svalinn.
Svalinn's main customer, TINE, Norway's largest dairy producer, has taken its environmental responsibility seriously. It just launched a large-scale test of the latest CueCap Eco+ BT innovation in September, with the aim of extending this cap concept to all its gable tops by 2023, well before the EU directive comes into force in July 2024.
TINE has just bottled milk in cartons with the CueCap Eco+ BT at TINE's Kalbakken dairy in Oslo. The milk will be distributed to stores and consumers in eastern Norway.
We hope that TINE will help inspire and motivate both consumers and other dairy industry stakeholders to join this exciting journey as we are confident that future solutions will be both more environmentally friendly and more functional.
This innovation is one of many from Svalinn aimed at making cap solutions more circular. By using renewable bio-sourced plastics, Svalinn offers lighter, renewable and 100% recyclable cap solutions. With easy integration, reduced conversion time, increased operational window for lower energy consumption, CueCaps are very efficient solutions that contribute to reducing production costs and ecological impact.
You can also participate in a better protection of the planet by adopting our new CueCap Eco+ BT!